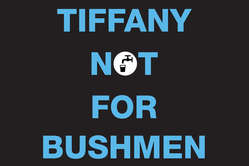 Jeweller Tiffany's faces protests in five countries over its controversial activities in Botswana.
© Survival International
Survival supporters will demonstrate tomorrow (3 February) outside Tiffany stores in five countries to protest at the company funding water boreholes for game animals on Bushman land where the people are forbidden access to their own borehole.
In 2006, Botswana's High Court ruled that the government's eviction of the Bushmen from the Central Kalahari Game Reserve four years earlier was illegal and that the Bushmen had the right to live in their reserve. However, the government has still tried to stop them returning to their ancestral land. It says they cannot use – even at their own expense – a borehole which it deliberately cut off, forcing them to make a 300 mile round trip to fetch water from outside the reserve. At least one Bushman has died from dehydration since the borehole was cut off.
Botswana's Director of Wildlife and National Parks, Trevor Mmopelwa, has made it clear that the new boreholes must not be used by the Bushmen, defying the high court by saying the reserve 'should be reserved for wildlife'. As well as drilling new boreholes, the government has also allowed a new tourist lodge, complete with swimming pool and a supposed 'Bushman experience', in the reserve.
Survival supporters will demonstrate outside Tiffany stores in London, Paris, Berlin, Madrid and San Francisco, to start a campaign calling on the company to withdraw from cooperating with the government until the Bushmen are allowed to exercise their right to water.
Bushman spokesman, Jumanda Gakelebone, said today, 'Tiffany is supporting the government but ignoring the Bushmen. It should not be giving money to the government while we don't have any water. Its money is being used to oppress us. This is our land and we love it.'
Survival's director Stephen Corry said today, 'This is a very well-known case. The Botswana government has been proven to be acting in breach of its own laws and constitution in its efforts to destroy the only remaining hunting Bushmen in southern Africa. Tiffany must know this. Foreign companies should not be supporting it so long as it favours animals to the country's original inhabitants.'
Your support is vital if the Bushmen are to survive. There are many ways you can help.